Dear Reader and Friends: As Christmas approaches, we would like to share several Bible verses that have deep meaning for us.
"And in the same region there were shepherds out in the field, keeping watch over their flock by night. 9 And an angel of the Lord appeared to them, and the glory of the Lord shone around them, and they were filled with great fear. 10 And the angel said to them, "Fear not, for behold, I bring you good news of great joy that will be for all the people. 11 For unto you is born this day in the city of David a Savior, who is Christ the Lord. 12 And this will be a sign for you: you will find a baby wrapped in swaddling cloths and lying in a manger." 13 And suddenly there was with the angel a multitude of the heavenly host praising God and saying,
14 'Glory to God in the highest,
and on earth peace among those with whom he is pleased!'" (Luke 2:8-14, ESV)
This is the season when we focus on the birth of Jesus Christ and the gift of eternal life that God delivered to earth with His birth. We once again tell an exciting story about the imperfect life we all face here on earth in our newest novel, "The Breach." And we weave in the great love of God, which He showed us all on that first Christmas. May the peace of Jesus fill your hearts and lives this Advent season.
In "The Breach," join your favorite federal agents, Eva Montanna and Griff Topping, as they fight crime and corruption with their wits tied behind their backs. Eva's Christian faith and family relations are further tested as she and Griff plunge into investigating threats against a U.S. senator. Eva navigates a web of international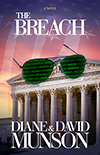 deceit when an intelligence breach impacts her daughter, her daughter's employer and her employer's adopted Amish son, who can she and Griff trust? Will they discover the truth in time?
Readers are already telling us this latest thriller is their new favorite and we are very grateful for all your prayers and encouragement!
In time for Christmas giving, "The Breach" is now available at Amazon or an autographed copy of it and any other title at DianeAndDavidMunson.com.
Warm Christmas Blessings, Diane and David Munson