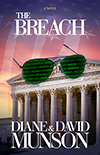 In our last posting, we were busy writing while hunkered down to avoid Covid. Thank God, so far, we've avoided Covid and we've finished "The Breach!" It is now available for pre-order, and will be shipped on the release date, December 1, 2020, just in time for Christmas. We have a limited number of "Review" digital copies available to help promote our new thriller.
If you are a regular customer of Amazon, or Amazon "Prime" member and are willing to post a review once you've read "The Breach," please send us your email address to info@DianeAndDavidMunson.com and we will include you in the drawing for one of fifteen free Kindle versions for you to read.
We are excited to release this twelfth thriller and believe you will enjoy it because the editor who has edited many of the twelve, enthusiastically told us that "The Breach" is her favorite, thus far. Here is our description of this exciting thriller:
In "The Breach," Federal Agent Eva Montanna, always the hunter, becomes the prey. She and her partner, FBI Agent Griff Topping join forces in a battle against domestic terrorist threats, until their personal information gets compromised. Are they being doxed? And if so, to what end? Eva's Christian faith and family relations are further tested as she and Griff plunge into investigating threats against U.S. Senator Cambridge Easton. When they uncover shocking allegations that the assigned judge is corrupt, it's a race against time to figure out the truth. But Eva's job demands are only the beginning, as she navigates a web of deceit when an intelligence breach impacts her daughter, her daughter's employer, and the employer's adopted Amish son.  Who can they trust? Eva and Griff must fight crime and terrorism with their wits tied behind their back. Will they find out in time if the hacker is a determined foreign enemy, or someone with a personal vendetta against them?"
If you are shopping for Christmas you will be able to order Kindle versions, or print copies from Amazon, or autographed print copies from our website to be shipped after December 1st at https://www.dianeanddavidmunson.com/the-breach/
Thank you all! We appreciate all your encouragement and especially your prayers. Stay safe and may God bless you mightily!