Diane & David Munson Official Website
Authors of Family Friendly Factional Fiction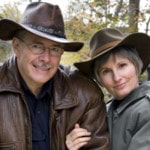 We are a spousal duo writing family-friendly suspense and inspirational romantic suspense novels based on our challenging careers in the U.S. justice system. Our novels are "factional fiction" as they are inspired by fictionalized events and themes from Diane's career as a Federal Prosecutor/Attorney and David's career as a Special Agent with NIS (now NCIS) and undercover Special Agent with the Drug Enforcement Administration (DEA).
Those who follow our writing, know we feature an inside look at the lives of heroes. Realistic and fast-paced like our careers, our thrillers intertwine multiple plots, which all get untangled by the end of the book. Though the major federal agents appear in subsequent novels, each book stands alone. They can be read in any order.
ON SALE NOW: "The Breach"
After eleven best-selling thrillers, Diane and David Munson launch The Breach. Joining forces again, Federal Agent Eva Montanna and FBI Agent Griff Topping battle against a domestic terrorist threat, until their personal information gets compromised. Are they being doxed? And if so, to what end? Eva's Christian faith and family relations are further tested as she and Griff plunge into investigating threats against U.S. Senator Cambridge Easton. When they uncover shocking allegations that the assigned judge is corrupt, it's a race against time to figure out the truth. But Eva's job demands are only the beginning, as she navigates a web of deceit when an intelligence breach impacts her daughter, her daughter's employer, and the employer's adopted Amish son. Who can they trust? Eva and Griff must fight crime and terrorism with their wits tied behind their back. Will they find out in time if the hacker is a determined foreign enemy, or someone with a personal vendetta against them?
In The Breach, strong female lead, Eva Montanna, deals with difficulties many of us face. Eva, like many Christian wives today, balances life along with her husband Scott as they raise three children. Unlike her stay-at-home mother and grandmother, Eva works a challenging career as a Federal law enforcement agent. Readers discover how, besides the pressures of caring for her family, Eva must steer through threats, which daily assail her. Is the food she serves safe? Are her kids associating with dangerous friends? Can she surf the Internet without being hacked or her identity stolen? Can she even trust the justice system which she serves and the judges before whom she testifies?
Walk with Eva as she strives for courage each day and learns she can still trust the God whom she serves to guide and protect her. In each of our thrillers, we weave into the lives of our characters evidence of God's faithfulness, which we experienced in our careers as a prosecutor and law enforcement agent in the U.S. Department of Justice.
An Inside Look At The Lives Of Heroes
Check out our Two ExFeds News Wrap Blog, where we discuss law and justice issues in the news. If you sign up for our quarterly newsletter, we'll keep you posted about where we are traveling, host contests, and tell you about new releases.
Read "About Us," and check out our books and appearances. Watch short videos of our releases on the Media page and Book page. We look forward to meeting you as we travel for book events. If your library, church, or group wants to host us to speak or present a "Mystery Event," contact us and we'll get back to you.
It's fun meeting readers and sharing the adventures in our writing and careers.
Blessings to all of you!
Virtual Book Events:
Check Back Soon For Updated Information