Diane & David Munson Official Website
Authors of Family Friendly Factional Fiction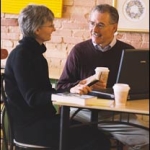 We are a spousal duo writing family-friendly suspense novels based on our challenging careers in the U.S. justice system. Our novels are called "factional fiction" because they are inspired by fictionalized events and themes from Diane's career as a Federal Prosecutor/Attorney and David's career as a Special Agent with NIS (now NCIS), and undercover Special Agent with the Drug Enforcement Administration (DEA).
If you read our books, you know we feature an inside look at the lives of heroes. Realistic and fast paced like our careers, our thrillers weave multiple related plots; however, sometimes we don't reveal the surprising connection until the exciting conclusion. Though the major federal agents appear in subsequent novels, each book stands alone. They can be read in any order.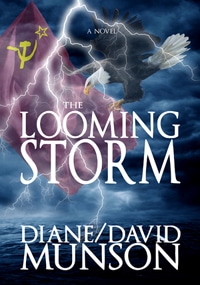 Tomorrow's headlines leap from the pages when Federal Agent Eva Montanna's daughter Kaley travels to Eastern Europe on a class trip. Their lives are altered in the blink of an eye. The gutsy federal agent must cling tightly to her faith in God as Eva discovers a menacing threat to harm Eva, husband Scott (the press secretary for the Speaker of the House in D.C.) and their three children. To stop the threat, Eva and Griff Topping, her FBI partner, use every trick to infiltrate a band of Florida smugglers. The agents are shocked when their undercover charade exposes the full measure of the sinister plot.
Diane and David Munson
What's wrong with this picture? Some would say the above creche can't be on Government property because it is a religious symbol. We could win a court argument about that, as the baby Jesus has [...]
An Inside Look At The Lives Of Heroes
It's fun meeting readers and sharing the adventures in our writing and careers.
Blessings to all of you!
Upcoming Events
August 19, 2017, 10-4pm Bradenton Shabby Chic Market
1 Hebron Blvd.
Palmetto, FL
Nov 11, 2017, 9-4pm Bartow, FL Annual Craft Show
180 S. Central Ave., Bartow, FL 33830
Nov 18, 2017, 9-3PM Calvary Chapel
8900 U.S. Hwy 19N,
Pinellas Park, FL
Dec 2-3, 2017, 10-4PM Lutz Woman's Club Arts Show
18105 Gunn Hwy
Odessa, FL
Jan 27, 2018, 10-4PM Kumquat Festival
Downtown Dade City, FL
Feb 17, 2018, 9-4pm Ozello Civic Assoc. Festival
14095 W. Ozello Trail, Chrystal River, FL
Mar 3, 2018, 9-6pm Habitat Strawberry Festival
601 SE 25th Ave., Ocala, FL
Mar 13, 2018 Noon-1pm
Joyful Hearts Luncheon
First Baptist Church
125 W. Anderson Ave. Bushnell, FL