Diane & David Munson Official Website
Authors of Family Friendly Factional Fiction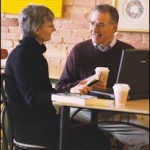 We are a spousal duo writing family friendly suspense novels based on our challenging careers in the U.S. justice system. Our novels are called "factional fiction" because they are inspired by fictionalized events and themes from Diane's career as a Federal Prosecutor/Attorney and David's career as a Special Agent with NIS (now NCIS), and undercover Special Agent with the Drug Enforcement Administration (DEA).
In "Embers of Courage," our latest release, Federal Agent Eva Montanna risks her life on a daring rescue mission after her task force teammate NCIS Special Agent Raj Pentu is captured by militants. Eva's faith and courage are tested when she is plunged into a gripping family mystery involving ancient ashes, her ancient family Bible, and fifteenth century religious persecution.
If you read our books, you know we feature an inside look at the lives of heroes. Realistic and fast paced like our careers, our thrillers weave multiple related plots; however, sometimes we don't reveal the surprising connection until the exciting conclusion. Though the major federal agents appear in subsequent novels, each book stands alone. They can be read in any order.
"The Looming Storm" Coming  September 01, 2016
Click Here & Order!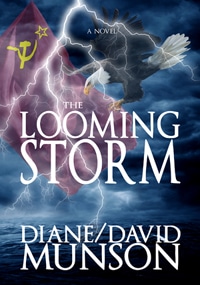 What is our rock in the midst of every storm? In our last book, "Embers of Courage," we revealed persecution of Christians in the past and in the present. As tumult continues in the world, the words to the hymn, The Solid Rock, kept reverberating in our minds while we plotted "The Looming Storm." So did verses in Mark 4:35-41 when Jesus the Christ rebuked a terrific storm on the Sea of Galilee by telling the winds and waves, "Quiet! Be still!" The waters and winds instantly obeyed and became absolutely still. What power Jesus has!
This is the hope we convey in "The Looming Storm."
Tomorrow's headlines leap from the pages when Federal Agent Eva Montanna's daughter Kaley travels to Eastern Europe on a class trip. Their lives are altered ihttp://www.dianeanddavidmunson.com/the-looming-storm/n the blink of an eye. The gutsy federal agent must cling tightly to her faith in God as Eva discovers a menacing threat to harm Eva, husband Scott (the press secretary for the Speaker of the House in D.C.) and their three children. To stop the threat, Eva and Griff Topping, her FBI partner, use every trick to infiltrate a band of Florida smugglers. The agents are shocked when their undercover charade exposes the full measure of the sinister plot.
Diane and David Munson
Wow! They're back. After the trauma of having Ziva and DiNozzo depart from the show, Gibbs' reconstituted group has finally congealed. Tonight's episode is well written and well acted. We really expected a continuation of [...]
An Inside Look At The Lives Of Heroes
It's fun meeting readers and sharing the adventures in our writing and careers.
Blessings to all of you!
Upcoming Events