Diane & David Munson Official Website
Authors of Family Friendly Factional Fiction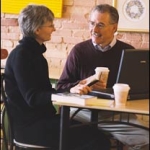 We are a spousal duo writing family friendly suspense novels based on our challenging careers in the U.S. justice system. Our novels are called "factional fiction" because they are inspired by fictionalized events and themes from Diane's career as a Federal Prosecutor/Attorney and David's career as a Special Agent with NIS (now NCIS), and undercover Special Agent with the Drug Enforcement Administration (DEA).
In "Embers of Courage," our latest release, Federal Agent Eva Montanna risks her life on a daring rescue mission after her task force teammate NCIS Special Agent Raj Pentu is captured by militants. Eva's faith and courage are tested when she is plunged into a gripping family mystery involving ancient ashes, her ancient family Bible, and fifteenth century religious persecution.
If you read our books, you know we feature an inside look at the lives of heroes. Realistic and fast paced like our careers, our thrillers weave multiple related plots; however, sometimes we don't reveal the surprising connection until the exciting conclusion. Though the major federal agents appear in subsequent novels, each book stands alone. They can be read in any order.
Diane and David Munson
The writers of tonight's episode deliver a case of a questionable death in a decompression chamber and a mixture of Valentine's Day references. Several nice things occur in tonight's episode. Abbey spreads cards and flowers [...]
An Inside Look At The Lives Of Heroes
It's fun meeting readers and sharing the adventures in our writing and careers.
Blessings to all of you!
Upcoming Events