Last year we posted an ad for our tenth thriller "The Looming Storm" on Facebook, but never saw any sign of it. Today we were told by Facebook that our ad was denied. We wondered if it was offensive?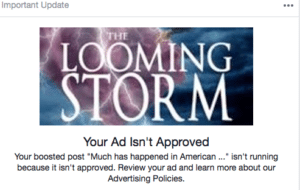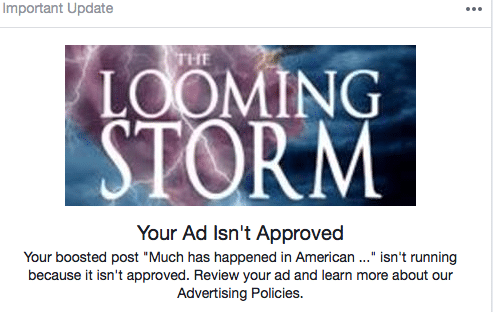 We demanded to know the reason. Their response?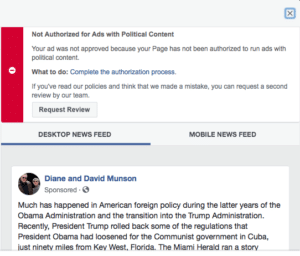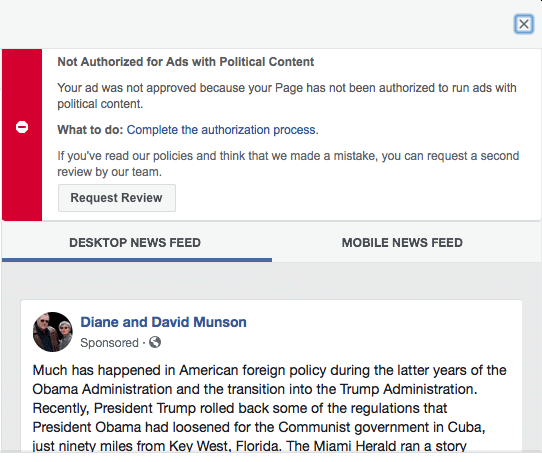 Of course, we appealed because everybody knows that the novel we want to advertise is a thriller about Russian and Cuban spies. So what was Facebook's response?
End of Story!! Facebook says our only option is to apply to be an advertiser of political content, which we don't do. It appears that we are dealing with a bot or computer. Since Borders Books and Family Christian Book Stores succumbed to Amazon, it is increasingly difficult for authors to sell their books through bookstores. It now appears that if Facebook doesn't approve of their content, another social media outlet is closed. The Bible warns that in the last days, persons will be identified by a unique mark or number and they will be unable to buy or sell. Are we getting closer to that day?
Are you wondering what was so offensive about the narrative of our ad? Here it is. You be the judge.
"Much has happened in American foreign policy during the latter years of the Obama Administration and the transition into the Trump Administration. Recently, President Trump rolled back some of the regulations that President Obama had loosened for the Communist government in Cuba, just ninety miles from Key West, Florida. The Miami Herald ran a story revealing how Southwest Airlines will stop offering flights to the Cuban cities, Varadero and Santa Clara, as of September 5.
Last September, we released our suspense novel, "The Looming Storm", where undercover FBI Special Agent Griffin Topping was sneaking into Cuba to conduct unlawful business with a Cuban military officer. Just after the release of our thriller, President Obama changed the regulations that would then permit Griff to fly into Cuba and lawfully do the same business.
President Trump recently announced Americans can no longer travel into Cuba on individual people-to-people excursions, nor can Americans do the things Griff did with the Cuban military. So if our novel were ongoing, Griff would be feeling schizophrenic, as he'd now be reverting from legal trips, back to unlawfully flying as an undercover agent into Cuba's airspace to again conduct unlawful business.
On July 6, just a day before his meeting with Russia's President Vladimir Putin, President Trump gave a major speech in Warsaw, Poland, a nation that continues to have strained relations with Russia. So the chess game of international intrigue continues, as we reveal in "The Looming Storm." We authors of thrillers that include current events cannot even imagine what changes might occur after our thrillers go to print. As a result, we are taking our time in writing the next one!
Our last release is a great summer read for those who like a timely suspense involving Cuba and Russia."
Be Blessed, Diane and David Munson

Our new inspirational romantic suspense, "North by Starlight" will be out 11/13/18. Tell your friends, as our ads can't get out.